Students in dialogue with the Vice-Chancellor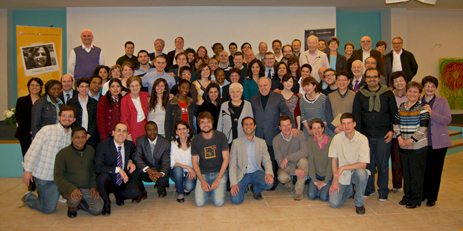 Davide Penna, from Genoa, a member of Catholic Action, 1st year student in Trinitarian Ontology, affirms that Sophia is "one of the best choices" he made in his life. David, together with Ines Tolentino Da Silva, from Portugal, who has been engaged with the Gen of the Focolare Movement for a few years now, welcomed Maria Voce in the Great hall of the Institute, on behalf of all the students, introducing the meeting: the IUS is currently attended by about 80 people between those enrolled in specialized degree, and in doctoral programs.
The appointment with the Vice Chancellor of the Institute and the president of the Focolare Movement which took place on April 26, will allow for an important evaluation at mid academic year. Almost an appraisal that is brought about by dialogue: by reflections and questions asked, by experiences and evaluations, with, at its core, the life of the academic community.
Vanessa Breidy comes from Lebanon and her experience has a personal stamp. After her involvement with the youth of the Movement, years followed in which nothing could be taken for granted any longer and the answers that had been valid up until the day before no longer sufficed. The invitation arrived to enroll in the IUS and she accepted: "It is a strong experience, and I am acquiring a new view on things. I'm also seeing that I'm not the only one seeking… By studying the works of many thinkers, I have discovered that besides me, besides us, there are men and women who have always asked our same questions."
Emanuele Pili is also from the region of Genoa; his realization is that the IUS gives to anyone the possibility to accede to the foundations of the charism of unity, overlooking whether one belongs to the Movement or not, starting from the heart of that particular experience of light of Chiara Lubich, that the foundress lived in 1949, when she received from God the fundamental intuitions of the Work that was to be born. And so she affirms that: "the universal dimension of the charism of Chiara is truly displayed when it is understood, and this happens at Sophia as well, as it is explained and re-given also by those who do not participate in the Movement".
Then there is Lia Guillen from Paraguay, in the second year of the degree program in Political Studies, who pauses on this originality of Sophia, where the competence in the culture of unity that is acquired along with studies, asks at the same time, for coherence in life's daily choices. Her talk gives Maria Voce a chance to go deeper on this thought:
"The fact that studying is difficult is already known, as it would have to be faced anywhere. The cohabiting factor is an added effort: but also an occasion. A difficulty may be seen either as an obstacle or as a challenge, to enable one to take another step forward. The challenge added by living together allows you to testify to universal brotherhood, which is the founding idea of the Focolare Movement and of Sophia. How would the possibility of mutually understanding each other, or the overcoming of different views be testified to if you do not experience it concretely?
"By coming here - continues Maria Voce with an observation that strikes many of those present – you have adhered to a different project which fascinated you, otherwise you would have looked to something else. This project has its roots in an extraordinary light, in a 'dream' which in reality becomes a daily effort. For this very reason, you are not, just making a simple experience, as you are trying to build fraternity: then do not let this effort scare you, nor can the experience be made easier, because it is about something truly big".
Everyone is aware that all of this has a high price in terms of personal commitment, and so is the President aware of it too: " You need to be open to believing yourselves grounded in a 'dream' born in God, transmitted through Chiara, requiring the seriousness of those who wish for it to become reality, all together. It is a job where difficulty and effort are certainly not absent, and sometimes tiredness as well, as is the temptation to flee, or the thought of having been mistaken... You need to take all of this into account. But that is the beauty of this experience. Each one of us is called to measure our steps in this direction. My best wishes to you!".
With the collaboration of Aurora Nicosia
Photos by Mario Egman and Gianpaolo Filisetti