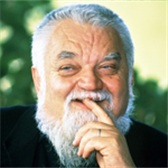 "Paths of Humanization"
Watch again the LIVE STREAMING here and the exclusive interview here
Tuesday, November 29, 2012 - 6.00 PM
Loppiano Auditorium
Enzo Bianchi, founder and prior of the monastic community of Bose, will be the guest of "Sophia Lectures", the cultural event promoted by the IUS, which takes place twice a year, and opened to the academic community and to all interested individuals.
Presentation:
Piero Coda – president of Sophia University Institute
A brief biographic profile on Enzo Bianchi
Enzo Bianchi was born at Castel Boglione (AT) Monferrato, on March 3, 1943. At the end of 1965, after his studies at the Faculty of Economy and Commerce at the University of Turin, he left for Bose, a small abandoned hamlet, part of the municipality of Magnano on the Serra of Ivrea, with the intention of starting a monastic community.


Joined by the first brothers and sisters in 1968, he wrote the Community's rules. He is still today, the prior of the community which counts about eighty members between brothers and sisters from five different nationalities, and is present also in Jerusalem (Israel), Ostuni (BR) and (Assisi) (PG).
In 1983 he founded the editing house Qiqajon Editions which publishes texts on biblical, patristic and monastic spirituality. In 2000, the University of Studies in Turin conferred on him an honorary degree in 'History of the Church.'