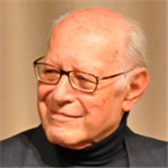 "On the Meaning of Truth"
Emanuele Severino, eminent figure of the Italian philosophical scene, guest of the first "Sophia's Lectures" of 2013, the cultural appointment promoted by the IUS held twice a year, open to the academic community and to all interested individuals and groups.
Friday, May 17, 2013 – at 6:00 pm
Loppiano's Auditorium
See here for DIRECT STREAMING in Italian
Read the in-depth article in this link
Presentation:
Piero Coda – Rector of Sophia University Institute
Brief, biographic profile of Emanuele Severino
Emanuele Severino, was born on January 26, 1929 at Brescia, and received his degree at University of Pavia in1950 along with Gustavo Bontadini, with a thesis on "Heidegger and Metaphysics". The following year he obtained the Teaching License in theoretical philosophy. From 1954 to 1970 he taught philosophy at Sacred Heart Catholic University in Milan. From 1970, he was ordinary of theoretical philosophy at the University of Ca' Foscari of Venice where he is among the founders of the Faculty of Literature and Philosophy as well as director of the Department of Philosophy and Theory of Science until 1989. Among subjects taught are: Logics, History of modern and contemporary philosophy, and sociology. In 2005 the University of Ca' Foscari of Venice declared him professor emeritus. He is currently teaching fundamental Ontology at the faculty of philosophy at the Vita-Salute of St. Raphael of Milan. He has the title of Liceums Academic, as well as Cavalier of the Great Cross (Gran Croce). For a number of decades now, he has been collaborating with the publication Corriere della sera. Massimo Cacciari defines him as "a giant" of thought, the only philosopher who can be compared with Heidegger from the 1900's.
Among his numerous works: (The Original Structure) La struttura originaria (1957), Milan, 1981;(Essence of Nichilism) Essenza del nichilismo, Milan, 1972; (The Inhabiters of Time) Gli abitatori del tempo, Rome, 1978; (Law and chance) Legge e caso, Milan, 1979; Téchne. Le radici della violenza (The Roots of Violence), Milan, 1979;(Destiny of necessity) Destino della necessità. Katà tò chreòn, Milan, 1980; (The fundamental tendency of our Time) La tendenza fondamentale del nostro tempo, Milan, 1988; Tautotes, Milan, 1995; (The Destiny of Technology) Il destino della tecnica, Milan, 1998; (The Glory) La gloria, Milan, 2001; (Surpassing) Oltrepassare, Milan, 2007;(Around the Meaning of Nothing) Intorno al senso del nulla, Milan, 2013.
Together with Sophia's president, Piero Coda, he has written: (Truth and Nothingness. The Risk of Freedom) La verità e il nulla. Il rischio della libertà, Milan, 2000; see also: Massimo Donà, (Freedom Beyond Evil) La libertà oltre il male. Dialogues with Piero Coda and Emanuele Severino, Rome, 2006.